Frangipani Flower Colours
As mentioned elsewhere on this site, the frangipani rubra is the most common species of frangipani in Australia. There are hundreds (possibly thousands) of flower colour variations within the rubra species.  If you look at a frangipani flower from a distance, it will most likely appear to be either yellow, orange, red or pink.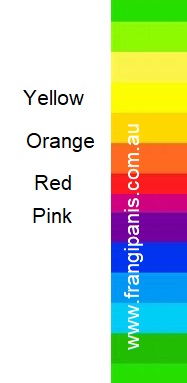 Our Flower Categories
If a frangipani flower usually starts with all yellow before fading to white in the sun, we call it a yellow. If a flower starts with a white flower with yellow in the centre and looks cream from a distance, we call it a white. We sometimes include blue frangipani flowers and purple frangipani flowers with the pinks and often separate dark pinks from soft pinks.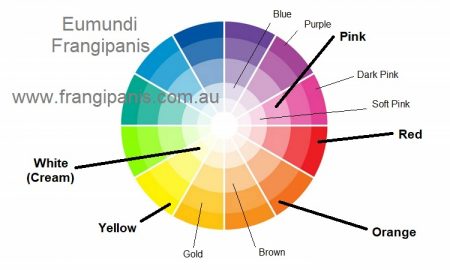 Rubra Flowers
Even  though "rubra" means red in Latin, the Frangipani rubra species is responsible for almost all of the beautiful frangipani flower variations. If you look at the below colour wheel, you can see that the frangipani flower colour spectrum spreads around from the purple to the yellow with the red sitting in the middle.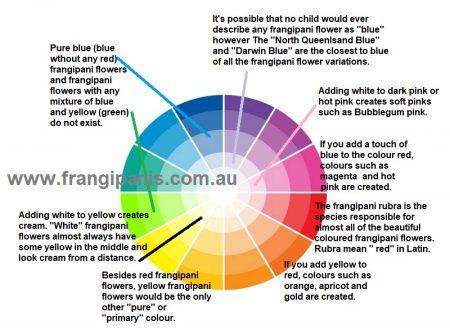 Frangipani Flower Fragrance
Almost all frangipani rubra flowers have strong scents. We believe its only worthwhile keeping a frangipani with a mild scent if it's a special flower or unique frangipani species. Different colour flowers have different scents. Frangipani scents are sometimes fruity like peach or citrus and sometimes like other flowers like jasmine or gardenia. The strength of the emitted fragrance varies greatly depending on other factors such as weather and time of day.  The best way to compare frangipani scents is to have more than one frangipani in your own yard.