Submit Orders Without Payment
Our online shop is set up to accept orders regardless of a payment being made or not. Specific frangipani trees that are ordered are automatically put "on hold" for the customer. They will  still appear online but the status will automatically change from "Available" to "Please Enquire".  After we check the ordered frangipanis and payment has been received, we'll begin "Processing" the order which means we'll start working on the delivery process and move the frangipanis into a loading position.
Online Security
Our website does not collect credit card numbers or connect to any payment websites. Preventing a website from being hacked is always a priority however over the last ten years, it's been great not having to update payment methods or worry about losing customer information. The information we collect is easily found elsewhere, such as the white pages website.
We have also recently (2018) set up https which is another layer of security to prevent our website from being hacked and putting your device at risk.
Order Confirmations
Our website automatically sends an email containing order details to us and the customer whenever an order is submitted on our website. Except for times of continuous rain or days off, we are usually able to locate and check the ordered frangipanis and get back to the customer within 24 hours.
Invoices
After customers place an order online, we can easily send an invoice from our website. These automatically created invoices are similar to order confirmations but are titled Invoice and include our ABN. If you do not receive one and require an official invoice, please do not hesitate to ask us.
Please note that we DO NOT add GST to our prices.
For purchases by phone, email and pick up, we create and email a PDF invoice. Please email us your details so we can cut and paste your information.
Payment Instructions
Payment instructions are displayed immediately after an order has been submitted. They are also included with order details in an automated email.
Payment Methods
Our preferred method of payment is for our customers to login to their bank's website and make payment using our BSB and account number. The is one type of EFT (Electronic Funds Transfer) known as a bank payment or money transfer.
It's also possible to pay to our BSB and account number by visiting your local branch or post office.
We accept cash.
If you explain why, we'll accept a cheque.
We only accept PayPal payments when we advertise on third party websites such as ebay and in most cases, prices will be higher to factor in potential abuse and fees.
We currently DO NOT accept payment by credit card or EFTPOS (Point of Sale).
Our Bank Details
Name – eFrangipanis
Bank – NAB
Branch – Noosaville, Queensland
BSB – 084004
Account Number – 881844894
Below is the same information displayed as an image.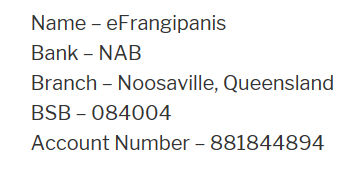 In the unlikely event that the above sets of numbers are different to each other, please inform us and do not make payment.
Check Your Email
After submitting a frangipani order on this website, you should receive an automated email containing your order details and our bank details for payment.
Either NAB or Bankwest
The bank details will be for either our NAB account (as above) or our Bankwest account.
Payment Confirmation
Please send us an email straight after you make payment. If delivery is urgent, we can start planning delivery and check our bank account the following day to confirm payment has been received.
Holding Deposits
If we receive an order for a frangipani
1-and we have already received a deposit for that frangipani, we will notify the customer and suggest alternatives.
2-and we have already received an order for that frangipani, we will notify the first customer and request payment in full or a holding deposit be paid immediately. We will notify the second customer and suggest waiting for the first customer's decision and suggest alternatives.
*Holding deposits are forfeited if order is cancelled.