Submit Orders Without Payment
Our online shop is set up to accept orders without asking for payment. Even though terms like "Buy Now" and "checkout" are used, submitting an order online is only the first step. Ordered frangipanis will be put on hold for the customer. They will still appear on the online shop but their status will automatically change from "Available" to "Please Enquire".
Paying For Online Orders
Payment instructions are displayed immediately after an order has been submitted. They are also included in the order confirmation email which is automatically sent after checkout. The bank details will be for either our Bankwest account or our NAB account (as below).
Remittance
After you make payment, please email us and let us know.
Online Security
Our website does not collect credit card numbers or connect to any payment websites. Our website collects only information which is often already available online, on sites such as the white pages. In 2018, we purchased an SSL certificate for each our websites (websites which have https) which is another layer of security to prevent our website from being hacked and putting your device at risk.
Confirming Frangipani Orders
After we receive a frangipani order, we check each frangipani and report back to the customer by email. We like to confirm that the frangipanis have not been recently sold to someone else and they are in a suitable condition to be transported before requesting payment.
Urgent Orders
Whenever an order is submitted through our website, our website automatically notifies us and sends an email containing order details and payment instructions by email to the customer. If the purchase is urgent, we suggest making payment straight after placing the order. Since it's easy and free to make additional payments and refund payments, there's no additional risk.
Payment Methods
It's our understanding that the easiest, safest and cheapest method to pay is by bank money transfer, which is considered an EFT (Electronic Funds Transfer).

PayID is the Newest and Safest Method. After logging into your online bank, select pay someone using PayID and enter our email address. You should be told who owns the email address so make sure you recognize the details before making a payment.
Transferring payment using a BSB and an account number has been a common and popular method for many years. It's a very reliable method but the problem is that a single misplaced digit can make the payment bounce, or even worse, send the money to someone else's account. It's usually necessary to enter the receiver's name but Australian banks do NOT check this name and it makes no difference. If you triple check the numbers, this is a very safe and reliable method.
Name – eFrangipanis
Bank – NAB
Branch – Noosaville, Queensland
BSB – 084004
Account Number – 881844894
Please check! – Below is the same information displayed as an image. In the unlikely event that the above sets of numbers are different to each other, please do not make payment and kindly let us know.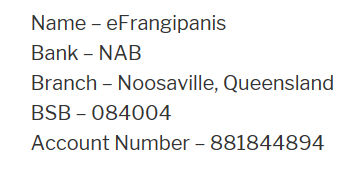 Bank money transfers are easily done by logging into your own bank account but, I believe, it's also possible to pay by visiting your bank's local branch or your local post office.
We only accept PayPal payments when we advertise on third party websites such as ebay and in most cases, prices will be higher to factor in potential abuse and fees.
Please contact us if you'd like to pay cash or by cheque.
We currently DO NOT accept payment by credit card or EFTPOS (Point of Sale).
Holding Deposits
1-If we receive an order for a frangipani and we have already received an order for that frangipani –
a-we will notify the customer and also suggest alternative options.
b-we will notify the first customer who ordered the frangipani and request payment in full or a holding deposit be paid within 48 hours.
2-If a holding deposit is not received within 48 hours, we will offer the frangipani to the second customer.
3-Holding deposits should be $100 or 10% of the price, whichever is the highest.
4-If a payment has been made to "hold" a frangipani tree and the order is cancelled through no fault of ours, we reserve the right to keep the holding deposit.
Invoices
Order confirmation emails are automatically sent to customers for online orders. These order confirmation emails contain all the details however an email or document to be used for taxation purposes should be titled "Invoice". If you do not receive an invoice and would like one, please make a request by email.
We have several methods to issue invoices and we try to include all the required information them, such as the title, our business name and ABN and of course the amount. If you are not satisfied with the invoice, please let us know.
Please note that we DO NOT add GST to our prices.